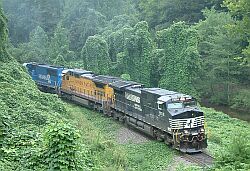 Welcome to the RRPictureArchives.NET contributor site of Bob Zimmermann.

I was given my first camera around 1968, a Polaroid - strange, since my dad worked at Kodak, and had processed black-and-white film prints since his high school years. My mom took me downtown to the Rochester passenger station to watch trains, until I started riding my bicycle across the city to the Penn Central Goodman Street yard. What fun, watching Alco switchers kick cars in flat switching. I made many trips to the Charlotte yard, depot, and engine siding, to see what was happening. The early 1970's found Alcos and EMD F7's operating around western New York.
In 1972, I was given my first car, and took a year of photography classes at RIT. I met the chief mechanic at the B&O roundhouse in Rochester, who let me wander around, taking pictures. A friend's uncle worked for New York Central/Penn Central/Conrail, and put me in touch with someone at Croton Harmon, to get a release to take photographs on the property. I enjoyed listening to my grandfather tell of taking the train from Rochester to central New York, via New York Central and DL&W to visit family. He loved to tell about working at the blast furnace in Charlotte, testing limestone, coke, and iron ore as it arrived by rail.
As I learned about railroading and travel, I found two areas I really enjoyed railfanning: Cleveland, OH and New England. Penn Central and Conrail moved Alco Centuries and EMD F7's to Ohio, to work their last years. New England offered many scenic views and historic, colorful railroads.
I'm gradually scanning my slide collection, many of which you find here. Some photos are from my early Polaroid shots and color prints. I have started a home business to sell my prints, Rail Photo Resources. What I strive for is to go beyond locomotive roster shots, to present an artistic statement and a view of railroading in the places I have visited.

Thanks for looking.


You may browse my collection of pictures via the menu located on the left hand side of the page. I hope you enjoy the collection and thanks for stopping by!